We pursue opportunities that align with our defined thesis and business plan where we have strong conviction in our ability to execute. Through an active ownership model and best-in-class property management, Nitya has realized above market returns through significant revenue and NOI growth across our diversified portfolio.
| | |
| --- | --- |
| Total acquisitions | 70 |
| Total Dollars of Assets Acquired | $2.0 billion |
| Total Dispositions | 29 |
| Total Dollars of Assets Sold | ~$500mm |
| Realized Average Net MoM | 1.6x |
| Realized Average Net IRR | 21% |
| Average Hold Period | 2.7 years |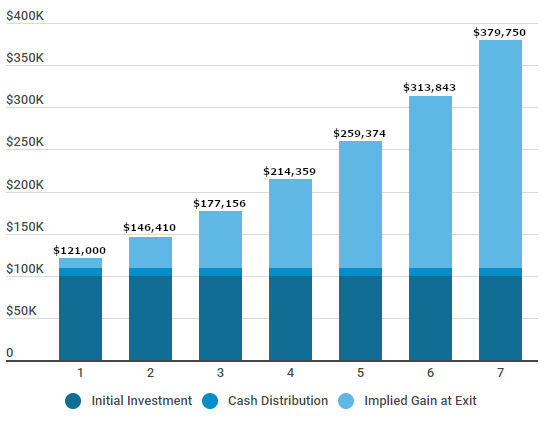 *The bar chart is for illustrative purposes only.  We have provided estimates based on past performance.  Historically, our average total net return has approximated 21% annually which includes an 8% annual cash return (paid quarterly).  For illustration purposes, we have shown using those estimates what a $100,000 investment would earn in cash annually and total return over a 7 year period.  Note past performance and these estimates and assumption are not indicative of future results.
We seek to capitalize on favorable economic and demographic trends and supply/demand dynamics through the strategic acquisition of assets across all real estate verticals.
Tangible Income-Producing Assets with Attractive Risk Adjusted Returns
Cash yielding assets: Returns are typically paid quarterly in cash based on net operating income (NOI) generated
Real assets with intrinsic collateral and land value with downside protection
Downside Protection: Assets serve a non-discretionary need with stable underlying demand in all economic cycles
Multifamily
RECESSION-RESILIENT ASSET CLASS
While most asset classes follow broader economic performance and are driven by higher levels of disposable income, money supply, and expansionary policy, the underlying demand fundamentals for multifamily real estate assets remain stable and insulated regardless of economic cycle.
In tougher economic climates, Class A and B+ renters may be forced to trade down to Class B/C multifamily assets. Specifically, in 2008 and 2009, occupancy levels in B and C multifamily assets declined by ~1.0–2.6% in each year. Ultimately, everyone needs a safe and comfortable community to live in during robust and weak economic cycles.
Multifamily properties have exhibited greater resiliency in maintaining asset values and has experienced lower volatility with market rents and occupancy levels relative to other property types. Property performance data for Class B and C apartments in Houston from 2008 to 2010 specifically exhibited a 2-3% standard deviation of annual occupancy change from 2003 through 2013.
As active investor-operators, we take a disciplined approach across all avenues pre and post-acquisition. Through rigorous underwriting derived from in-depth market research and data analysis, a thorough due diligence process, and a holistic, hands-on asset management model, we are able to closely monitor key performance indicators used to evaluate and ultimately optimize asset performance.
Operational, marketing, and leasing strategies implemented at the site level place heavy emphasis on customer service, which we believe to be paramount in successful property management.
Karya Property Management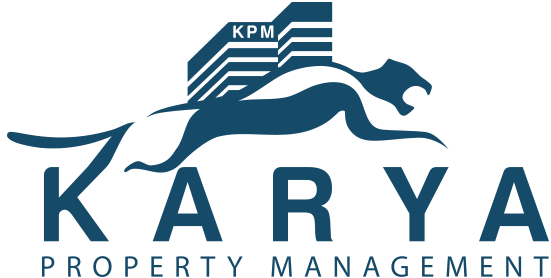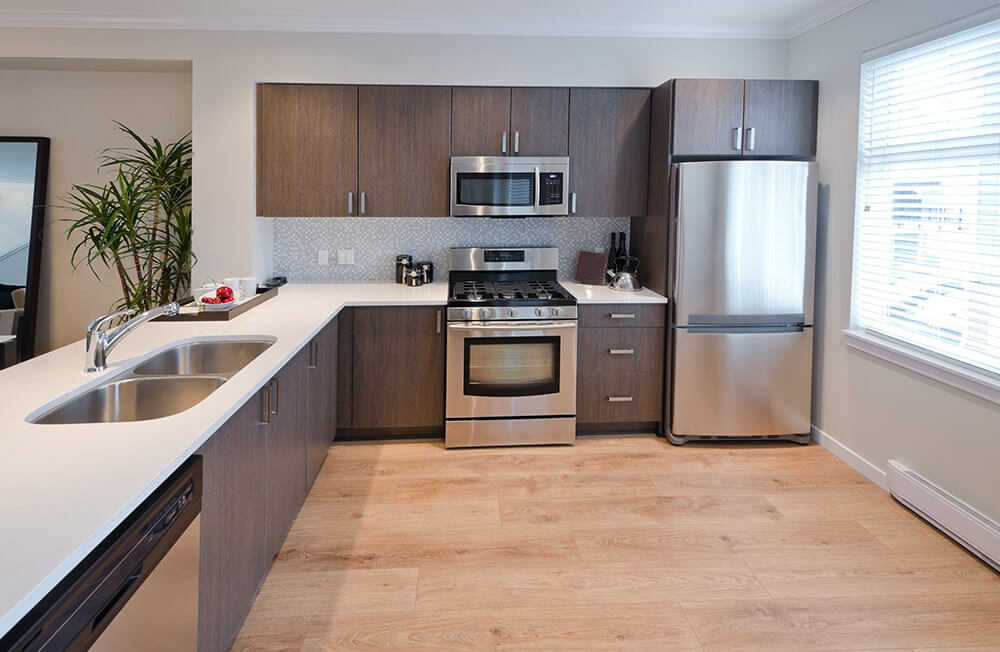 As multifamily owners, we began by hiring third-party property management firms to manage our assets. Over time, we observed an intrinsic misalignment of interests resulting from a focus on revenues as opposed to NOI maximization through the strategic management of capex and expenses.
Karya Property Management was formed to execute on the shared goal of asset appreciation through a comprehensive management approach. All construction, maintenance and repairs are conducted internally enabling significant long-term cost savings. Additionally, we heavily invest in the latest technology solutions to track real-time asset performance to enable proactive strategy and enhanced efficiency.